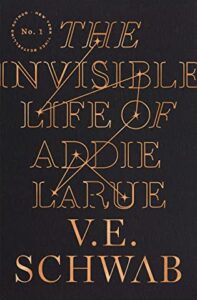 **Disclaimer: I received a free early access copy of The Invisible Life of Addie LaRue by V.E. Scwab through NetGalley in exchange for an honest review.  Thank you to them and the publisher for this opportunity.
The Invisible Life of Addie LaRue by V.E. Schwab is a  adult fantasy/historical fiction-esque novel with a pretty epic romance thrown in.  It takes place in 2014 and over the past of the title character, Addie LaRue. It is set to be published on October 6th, 2020.  I rated it five stars on GoodReads.
Here's the summary from Goodreads:
A Life No One Will Remember. A Story You Will Never Forget.
France, 1714: in a moment of desperation, a young woman makes a Faustian bargain to live forever and is cursed to be forgotten by everyone she meets.
Thus begins the extraordinary life of Addie LaRue, and a dazzling adventure that will play out across centuries and continents, across history and art, as a young woman learns how far she will go to leave her mark on the world.
But everything changes when, after nearly 300 years, Addie stumbles across a young man in a hidden bookstore and he remembers her name.
The Invisible Life of Addie LaRue is a book I have been eagerly anticipating for awhile.  I follow Victoria/V.E. Schwab on Twitter and she wrote about the writing process for this book a lot, and I found myself really intrigued.  I was so excited when I found out that it was coming out and that I would be able to request it on NetGalley.  Part of me was pretty sure that I would never get access when I requested it, but I did and I was so, so excited.  It took me awhile to get to it, but I am honestly so glad that I did.  I can already tell you that it's going to be on my top 5 books I read this year.  It is so, so good.
The basic premise of this book is amazing.  I was super interested in the premise.  Then I finally started reading it, and the premise because even cooler if that's even possible.  I was pretty certain that it wasn't going to be able to live up to the hype I had given it in my head, but to be honest it exceeded it.  I don't want to overhype the book or anything, but honestly it was super great.  Schwab took this really cool idea, and she made it fantastic.
The execution of this story was fabulous.  I loved how it weaved back and forth between the more recent timeline and Addie LaRue's past.  You learn about her as a character at all different levels, who she is now, versus who she used to be, and what exactly it was that led her to make this incredible deal.  I found Addie a fascinating character.  I loved seeing how she interacted with the world and I would read so many stories about her.  I found myself really relating to her.  I wanted her to succeed, and I wanted her to be able to live her life on her own terms.
Schwab's prose in this novel was really beautiful.  I've only read a few things that she's written, but this is by and large my favourite thing that she's written.  I think it's better written than some of her other books, but again, I can't say I'm really an expert on the things that she's written.  There is some very beautiful imagery in this story, and I loved her use of metaphor and simile.  I could picture the things that were happening really well.
Additionally, this book made me cry.  A lot.  I felt Addie's loneliness and it broke my heart to watch her struggle.  I also sobbed all throughout the concluding sequence.  It was just heartbreaking and really sad.  I always love when a book makes me have a strong emotional reaction, and this one really ticked that box.  I can be a somewhat of an emotional reader, but it's been a long time since I read a book that made me cry this much.
I also found myself really compelled to know what was going on.  I wanted to read it as fast as possible, but I also wanted to savour it.  Ultimately, I devoured this book in two days.  I found myself slipping into the world and forgetting everything else that was going on.  All I wanted was to read about Addie and Luc and Henry.  I finished the book, and I immediately ordered myself a copy because I knew I wanted a physical copy of my very own.
Honestly, I cannot rave about this book enough and I want everyone to read it.  I want to talk about it, so please pick up a copy for your own when it comes out.  Read it ASAP, and then please let me know what you think!