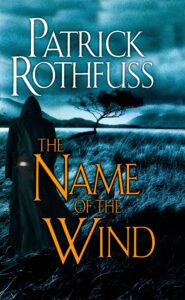 This book had been on my TBR pile for a few years, ever since I heard Lin-Manuel Miranda was supposed to have a hand in a TV adaptation of it. I am a sucker for LMM and would listen to him perform the dictionary because he could rock that. (I don't actually know if this still a thing, but at the time it was.)
I was pleasantly surprised to see how popular this was on bookstagram! It took me about three years to finally get to it and about five months to actually read it, but it was definitely worth it! I'm so excited to continue the series.
Goodreads summary:
Told in Kvothe's own voice, this is the tale of the magically gifted young man who grows to be the most notorious wizard his world has ever seen.

The intimate narrative of his childhood in a troupe of traveling players, his years spent as a near-feral orphan in a crime-ridden city, his daringly brazen yet successful bid to enter a legendary school of magic, and his life as a fugitive after the murder of a king form a gripping coming-of-age story unrivaled in recent literature.

A high-action story written with a poet's hand, The Name of the Wind is a masterpiece that will transport readers into the body and mind of a wizard.
I really enjoyed Kvothe's tale. I like the overall narrative and then there's him telling the story to the chronicler.
His family was great and it was neat to see where he came from and how much it influenced his life. They just sang the wrong songs. One of the reasons I want to continue this series is because I need to know just why they were the wrong thing to sing. There's not too much more revealed as to why in the book other than it's bad and anything related to The Chandrian bring about destruction and ruin.
The part where he's actually attending the University gave me a bit of a struggle reading it. Definitely being the slower point of the book, I had to really trudge my way though his day to day schedule and his need to show off. Between that and his constant money issues, it wasn't my favorite part.
The book began to pick up again once he earns his pipes: I loved the descriptions of him playing the lute because it was his one true passion that kept him connected to his family. It was also interesting to come across Denna again because he definitely has a connection when he meets her the first time. It's very fitting that he loves someone who is so flighty; the nature of the Edema Ruh was nomadic so to have a constant that is not anchored down just works well.
I'm looking forward to reading the next one! I gave it 4 stars.