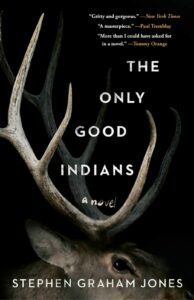 ***Disclaimer: I received a free early access copy of The Only Good Indians by Stephen Graham Jones from NetGalley and Gallery/Saga Press for review purposes. Thank you very much!
I really love a good horror story and it's sometimes difficult to find horror books because they are mixed in with general fiction. Thankfully, I follow some amazing people on bookstagram that can give me recommendations. I'm actually proud of myself because I saw this one myself and had to give it a try… I was not disappointed!
Goodreads summary:
Seamlessly blending classic horror and a dramatic narrative with sharp social commentary, The Only Good Indians follows four American Indian men after a disturbing event from their youth puts them in a desperate struggle for their lives. Tracked by an entity bent on revenge, these childhood friends are helpless as the culture and traditions they left behind catch up to them in a violent, vengeful way.

The creeping horror of Paul Tremblay meets Tommy Orange's There There in a dark novel of revenge, cultural identity, and the cost of breaking from tradition in this latest novel from the Jordan Peele of horror literature, Stephen Graham Jones.
This was definitely a terrifying read, if anything, it was because of the main entity that comes back to haunt these poor fellows. I gasped quite a bit while reading.
I will say there is a lot of dog deaths that honestly were a bit overkill (no pun intended) but that is because I love dogs. Thankfully, this one didn't leave me in tears, but it did leave me pretty horrified. Like, what did dogs ever do to this entity besides exist for the people that they were going to get revenge on? Though, I suppose that is the point because dogs are so loyal, but yeah that was a bit much in my opinion.
It was interesting to read some of the narrative he gave about Native American culture because I do not know a lot about it. I have some Native American friends and I find it fascinating. I enjoyed how he poked fun at some things, some things being super stereotypical but honestly life is full of that. If you can't poke fun at yourself, I don't think you're accepting of yourself. It rang true and more authentic that way.
The whole thing was interesting, but I definitely enjoyed the first story with Lewis the most. Since he was kind of put in the leader role during the event from their youth, it was definitely interesting how it affected him so much. It was neat to see the process of just how the guilt ate at him and made him paranoid, going down a path until he finally got to the end of it.
This book definitely had a message to it and it ended powerfully. I'm definitely making my husband pick this one up!
I ended up giving it 5 stars.