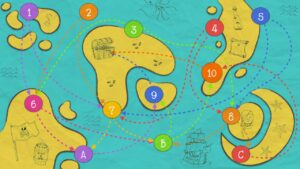 August is kind of a catch up reading month for me, because I brought home a whole bunch of books from my classroom and school library and only dipped into a couple during July.  It meant that I have a whole bunch still left to read for August, so I never made a TBR post at the start of the month.  However, I've since decided to participate in the ScallywagAThon, which is hosted by HardbackHoarder, Paper Faerie, and Read All the Books.
The readathon lasts from August 16-23.  Your goal is to read follow a path, and to make your way to the treasure at the end of the map.  Along the way, even if you have to take a little detour, you will end up reading four books.  There's a variety of prompts that are super flexible and they have a great website with lots of recommendations if you're stuck on the prompts.  For more information, you can find them on Twitter.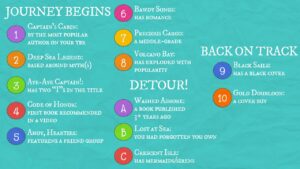 Because I have some very specific books that I want to read in August, I narrowed my TBR from my greater book collection to the books I brought from my school and a couple of others.
I decided to start at number 1: Captain's Cabin – By the Most Popular Author on Your TBR:
1. Dear Sweet Pea by Julie Murphy
From there, I decided to travel over to number 7: Precious Cargo – A Middle Grade
7. Race to the Sun by Rebecca Roanhorse
Then, I had to take a little bit of a detour, both according to the map and from my shelf of books I brought home from school, and went to A: Washed Ashore – A Book Published 3+ Years Ago:
A. Cracked Up to Be by Courtney Summers
After that, there was just one more stop to make, and that was 9: Black Sails – Has a Black Cover:
9. Critical Role Vox Machina Origins
That's everything that's on my TBR for this readathon.  I might attempt further prompts on the map if I knock these four down pretty quickly, but we'll see how it goes.  Either way, I'm really excited to participate!
Are you participating? What's on your TBR?