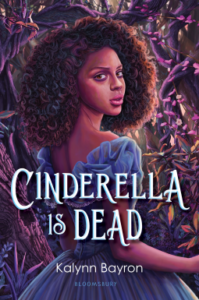 **Disclaimer: I recieved a free advanced reader's copy of Cinderella is Dead through NetGalley in exchange for an honest review.  Thank you to the publishers and to NetGalley for this opportunity.
Cinderella is Dead by Kalynn Bayron is a young adult fantasy novel that takes place in the same world as Cinderella, but 200 years after Cinderella died.  It's feminist and queer, and plays with that familiar story we all know.  The book published on July 7th, 2020.  I rated it three stars.
Here's the summary from NetGalley:
Girls team up to overthrow the kingdom in this unique and powerful retelling of Cinderella from a stunning new voice that's perfect for fans of A Curse So Dark and Lonely.
It's 200 years after Cinderella found her prince, but the fairy tale is over. Teen girls are now required to appear at the Annual Ball, where the men of the kingdom select wives based on a girl's display of finery. If a suitable match is not found, the girls not chosen are never heard from again.
Sixteen-year-old Sophia would much rather marry Erin, her childhood best friend, than parade in front of suitors. At the ball, Sophia makes the desperate decision to flee, and finds herself hiding in Cinderella's mausoleum. There, she meets Constance, the last known descendant of Cinderella and her step sisters. Together they vow to bring down the king once and for all–and in the process, they learn that there's more to Cinderella's story than they ever knew . . .
This fresh take on a classic story will make readers question the tales they've been told, and root for girls to break down the constructs of the world around them.
I absolutely loved the premise of this book.  Teenage girls team up to overthrow the patriarchy? Sign me up!  I loved that it was a fresh take on an old familiar story, and I was so excited to see how it all played out.  However, unfortunately, I found myself a bit disappointed by this book.  Let's start with the positives.
Again, the idea of the book was really, really interesting.   I've always found the story of Cinderella interesting, so to make it into something different and to twist that original story so that it had been manipulated into something bad was really interesting.  I also really liked the idea of the ball where eligible women are forced to make a match as a plot point.  (I would not like this in real life).  It felt like The Selection but worse, which makes for an interesting starting point.  Along this thread, the overall message of the book was really interesting and powerful, and I would recommend it for that reason alone.
Sophia was also a really interesting character.  She felt well developed, and although she had her flaws, it was interesting to see how those things played out.  You root for her, and you want her to find love and success even if that means she has to overthrow a whole regime.
However, on the negative side of things, I didn't fully love the writing style.  Something, that I can't quite put my finger on, rubbed me the wrong way and there were a few things that I felt somewhat meh about.  I also didn't think that some of the side characters were as well developed as they could have been.  Obviously not every side character needs to be well developed, but I wanted them to be more than one note.
There were some really good moments of action in this book, and I found myself compelled to keep reading.  I needed to know how things were going to play out, and I was very happy with the ending.  Overall that's why this book worked out to a three star rating.
If you're at all interested in the premise, it's definitely worth checking out.