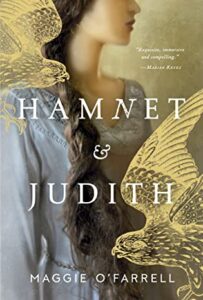 **Disclaimer: I received a free early access copy of Hamnet and Judith through NetGalley in exchange for an honest review.  Thank you to the publishers and NetGalley for this opportunity.
Hamnet and Judith by Maggie O'Farrell is a historical fiction novel that tells the story of William Shakespeare's family around the time of the death of his son.  However, it also goes over the past of the couple and the family.  I gave the novel 5 stars on Goodreads. The novel publishes on July 21st, 2020.
Here's the summary from Goodreads:
A story about the death of a child and the birth of a masterpiece in 16th century England, Hamnet & Judith is mesmerizing, heart-wrenching, impossible to put down–historical fiction at its finest.
On a summer's day in 1596, Judith, a young girl in Stratford-upon-Avon, takes to her bed with a fever. Her twin brother, Hamnet, searches everywhere for help. Why is nobody at home?
Their mother, Agnes, is over a mile away, in the garden where she grows medicinal herbs. Their father is working in London. Neither parent knows that one of the children will not survive the week.
Hamnet & Judith is a novel inspired by the children of a famous playwright. It is a story of the bond between twins, and of a marriage pushed to the brink by grief. It is also the story of a kestrel and its mistress; a flea that boards a ship in Alexandria; and a glovemaker's son who flouts convention in pursuit of the woman he loves. Above all, it is a tender and unforgettable reimagining of a boy whose life has been all but forgotten, but whose name was given to one of the most celebrated plays ever written.
I absolutely loved this book.  It had a really slow start, but it made you wonder what is going to happen and how things are going to play out.  I was really curious about how accurate the story would be to actual historical events, and while the author obviously has to take liberties because there's only so much historical information about the period, I felt it was really well done and that she made it as accurate as possible.
The writing style for this novel was really unique.  It felt detached in a way, while you still got a lot of information about what the characters were thinking and doing.  The author took you back and forth between the present timeline and the history of the family and how Shakespeare and his wife got together.  There was a very well rounded picture of this family and it offered explanations for how Hamnet got sick and how Shakespeare ended up going to London from his family home.  I appreciated these touches, and found it really interesting to see how the author interpreted the events of Shakespeare's life, even though there was definitely less of a focus on him.  I find this time period really interesting, and find Shakespeare as a figure a fascinating person and I liked the experience of reading about him.
Overall, I really enjoyed the way the story was told.  I mentioned earlier that it had a slow start, and I stand by that, but I definitely think it was intentional.  The author pulled out the story by splicing in the moments from the past of how they got to that place.  If she hadn't done that, then the story would have been too quick and not as well developed.  She really worked to give you the fullest picture possible and while that might not be for everyone, it really worked for me.
I also really liked how this story handled grief.  It's not a spoiler to tell you that Hamnet dies, because that's historical fact, and it wouldn't be a spoiler to tell you that his family is devastated by his loss.  You can imagine how his twin sister might feel, or how his parents would feel, and all of that is portrayed in this novel, and it is portrayed in a way that is realistic, and makes you feel equally devastated.  It also showed a variety of ways of grieving, which I loved because there are so many different ways that people deal with grief and it's important to portray those in a novel that deals with loss.
I really, really enjoyed the way this novel came together in the end.  I won't say too much of it, but the conclusion of this story is high on the list of reasons that I loved this story.  It was very well done and moving.  On the whole it was very well written, and I highly recommend that you check this book out on July 21st, when it releases.  I'm so glad that I read it.