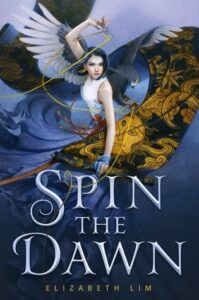 June's book for the #bestiemademe challenge is Spin the Dawn by Elizabeth Lim.  Kari has also reviewed this book, and you can find that here.  She absolutely loved it, and honestly, this is another recommendation that she knocked out of the park.  I really, really had a good time reading this book and I ended up giving it 4 stars on Goodreads.
Here's the summary from Goodreads:
Project Runway meets Mulan in this sweeping YA fantasy about a young girl who poses as a boy to compete for the role of imperial tailor and embarks on an impossible journey to sew three magic dresses, from the sun, the moon, and the stars.
Maia Tamarin dreams of becoming the greatest tailor in the land, but as a girl, the best she can hope for is to marry well. When a royal messenger summons her ailing father, once a tailor of renown, to court, Maia poses as a boy and takes his place. She knows her life is forfeit if her secret is discovered, but she'll take that risk to achieve her dream and save her family from ruin. There's just one catch: Maia is one of twelve tailors vying for the job.
Backstabbing and lies run rampant as the tailors compete in challenges to prove their artistry and skill. Maia's task is further complicated when she draws the attention of the court magician, Edan, whose piercing eyes seem to see straight through her disguise.
And nothing could have prepared her for the final challenge: to sew three magic gowns for the emperor's reluctant bride-to-be, from the laughter of the sun, the tears of the moon, and the blood of stars. With this impossible task before her, she embarks on a journey to the far reaches of the kingdom, seeking the sun, the moon, and the stars, and finding more than she ever could have imagined.
Steeped in Chinese culture, sizzling with forbidden romance, and shimmering with magic, this young adult fantasy is pitch-perfect for fans of Sarah J. Maas or Renée Ahdieh.
This book was perfect for me when I read it.  It was a super easy to read, and a really interesting world to dive into.  I found myself pretty immediately engrossed in what was going on and was able to easily finish it in two sittings.  I probably could have finished it in one if I didn't have to maintain a normal sleep schedule.  The writing was easy to digest, and I can definitely tell you that this is a book I will be recommending to my students who like fantasy stories.
Maia, as a protagonist, was really endearing.  You empathise with her as a character and you want her to succeed.  She's young and talented, and to watch those pieces come together is really fascinating.  I loved the dynamics with her family, and how strongly she wanted to do this thing for them to protect them.  Maia is definitely one of my favourite characters that I've read about this year.
I also really liked the development of the romance in this story.  Edan was a really interesting character, and although the age gap was technically quite large, I felt that they were well balanced. The relationship was also well developed, and I enjoyed how it was a bit of a slow burn over the start of the story.  It was really sweet, and I honestly really liked them together.  They're a big factor in why I'm going to have to get the sequel in order to see what happens next.
The tailoring aspect of this story was really interesting as well.  It's not very often you read about a tailor and I think it made this story really unique.  Fabric and magic is always a really cool combination to me, because it reminds me of a series that I read when I was younger and it brings up really positive memories for me.  I liked hearing about Maia's natural talent, but her magical scissors augmenting that talent is really, really cool to me.
I also really liked how this is also partly a road trip book, as that's a really fun trope.  Honestly, this book had a lot of things going on that I really liked and I feel like it would make a really good television show because there were a lot of spikes in conflict that would work really well for the episodic nature of television.  I liked that it had all these pieces, because it made it more interesting than if it was just the sewing competition or just the road trip to find the materials they needed
On the whole, if you haven't checked this book out, I highly recommend that you do!