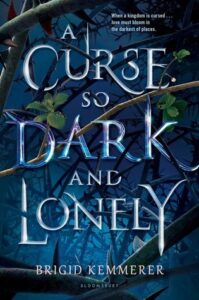 The May book for the #bestiemademe challenge was A Curse So Dark and Lonely by Brigid Kemmerer.  Kari has been bugging me to read this book for a long time, as is the standard with all of the #bestiemademe books.  And as with all of these books, Kari was right.  I was really engaged in this story, and absolutely loved it.  I gave it 5 stars on Goodreads.
Here's the summary from Goodreads:
Fall in love, break the curse.
It once seemed so easy to Prince Rhen, the heir to Emberfall. Cursed by a powerful enchantress to repeat the autumn of his eighteenth year over and over, he knew he could be saved if a girl fell for him. But that was before he learned that at the end of each autumn, he would turn into a vicious beast hell-bent on destruction. That was before he destroyed his castle, his family, and every last shred of hope.
Nothing has ever been easy for Harper Lacy. With her father long gone, her mother dying, and her brother barely holding their family together while constantly underestimating her because of her cerebral palsy, she learned to be tough enough to survive. But when she tries to save someone else on the streets of Washington, DC, she's instead somehow sucked into Rhen's cursed world.
Break the curse, save the kingdom.
A prince? A monster? A curse? Harper doesn't know where she is or what to believe. But as she spends time with Rhen in this enchanted land, she begins to understand what's at stake. And as Rhen realizes Harper is not just another girl to charm, his hope comes flooding back. But powerful forces are standing against Emberfall . . . and it will take more than a broken curse to save Harper, Rhen, and his people from utter ruin.
This book had been on my radar for a long time.  I actually bought it when it came out last year, but hadn't yet brought myself to pick it up.  I ended up hearing some mixed reviews of it and feeling a little unsure about how much I actually wanted to pick it up.  I am definitely susceptible to that kind of pressure.  However, now that I finally picked up this book, I am so, so glad that I did.  I absolutely loved this story.  I usually enjoy retellings, and I was especially intrigued by the fact that it was a Beauty and the Beast retelling.  So let's start there.
The retelling aspect of this book was really interesting.  It seems silly to say that I enjoyed how it took the familiar elements of the story and put their own spin on it, as that's the basic premise of a retelling.  However, I really did.  I liked how this adapted a story that I felt pretty familiar with and then made it into something that was unique enough to stand on it's own.  I liked how the characters were comparable to their corresponding characters but were unique as well.  Again, I feel like that's kind of dumb to say but I felt that the characters really stood out.  The story had those familiar elements, but gave them enough of a spin that I felt the story stood out from the crowd of other retellings.
I loved the way this story was written.  It was a really easy to read book and I found myself devouring it.  I was able to read it quickly in just a couple of sittings.  I probably could have devoured it in one sitting if I didn't need to go to bed at a reasonable hour.  However, I do, so I had to read it in two sittings.  I could definitely see where some people might not love it, but it was the perfect read for me and I really enjoyed it.
I can't speak to the cerebral palsy representation, but I felt that it was a really interesting aspect to include.  I liked that Harper didn't let anyone think less of her or try to take advantage of her because of her movement disorder.  People discounted her because of it, but she really proved them wrong. Harper was a really amazing character in general.  However, I also really loved the other characters in the story.  Rhen made for a perfect "beast" as he dealt with his issues of the curse and the guilt he holds and pushing people away.  I also loved Grey, who was a really interesting addition to the story.
The romance developed really well, and I liked that it didn't feel forced.  It grew in a way that felt natural and nothing was rushed into.  I don't want to spoil anything, but the way it resolved at the end felt very realistic.  I really enjoyed that aspect.  I loved how Harper inspired Rhen to be better and to try harder.
I also really enjoyed the juxtaposition between the two worlds of Emberfall and our world.  Neither was idealized, and you definitely saw the darkness in each.  However, you also saw the potential for how things could change.
Overall, this was a well constructed novel, and I had a lot of fun reading it.  I plan to check out the sequel pretty soon, because I need to know what happens next to Harper and co.  If you haven't checked this out yet, you definitely should!