People have been getting so creative during this pandemic.  Personally, I haven't been, but I have found some inspiration from places like Book Twitter, and BookTube.  One trend that I found that I think is really cool is this whole book covers as outfits trend.  I really, really wanted to do it but was nervous because my wardrobe isn't extensive.  I also wanted to play with makeup, but I'm not particularly talented at it.  However, I thought it could be a fun blog post, so you'll find that below the cut.
I wanted to do a whole week of book cover outfits, but I found that with working from home and sleeping in later than usual, I didn't have as much time in the morning to do my makeup or take photos.  However, I did end up doing six days, and that seemed like a pretty good place to start.
However, as you read this, please know that makeup is not a strong suit of mine, and I was just having a little bit of fun.  I don't profess to it being amazing.
Day 1: The Wicked Deep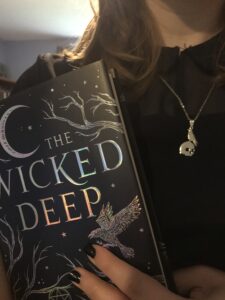 One of my favourite all time books is The Wicked Deep by Shea Ernshaw.  I loved the main character, the world and the magic of the story.  However, the first thing that drew me in to this book was the beautiful cover.  I remember scrolling through Amazon and seeing it, and being drawn in.  The blurb was what sold me, but the cover made me click and I knew that I wanted to try to replicate it.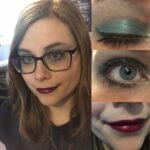 I tried to use blues and purples for my make up with this first look.  I went for some darker blue shades for my eyeshadow, with some touches of silver in my inner corner and on my waterline.  It just added a little bit of extra sparkle.  I also used this wonderful purple lip colour I have.  It's something I got in an Ipsy bag when I used to get the subscription as it's not something I would have been bold enough to pick for myself.  However, I got so many compliments on it, that I'm starting to think I need to find more reasons to wear it.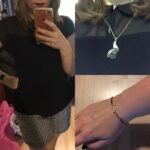 Then it was a matter of choosing the clothing to go with it.  I have this lovely blue top with this mesh shoulder and what I think is a Peter Pan collar that closes at the neck.  I don't wear it very often, but it's so pretty and I thought it went perfectly with the cover of The Wicked Deep.  This was also the only outfit that I really styled a whole outfit, and I pair it with these cute check patterned shorts from Old Navy.  Accessories are crucial for any good outfit, and I chose some of my pieces of bookish jewelry to add to my look.  I chose a silver coloured necklace with a raven on a skull, and the antler bracelet I have.  They were nice little additions to the look.
Day 2: The Gilded Wolves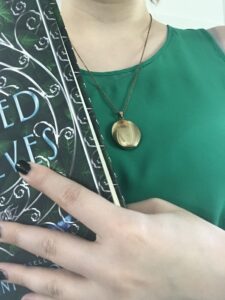 Kari helped me out with my second outfit choice.  I asked her which book I should do next, and she suggested The Gilded Wolves by Roshani Chokshi because it has beautiful jewel tones.  I agree.  It is a gorgeous book and it's a fascinating book.  I remember having a lot of fun reading it.  I also loved the sort of historical setting with the fantasy aspects.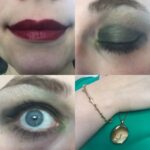 So makeup wise, it felt crucial to do a dark red lip.  This lipstick was one that I got from a friend, and it's beautiful.  It had subtle sparkles in it and aesthetically it makes me really happy.  For eye shadow, I went for some dark greens to match the main cover of the book.  I also tried to add some gold-ish coloured liner to my waterline but I don't know if it really shows up.
Outfit wise, the instant that Kari suggested The Gilded Wolves, I had a shirt in mind.  This green tank top is beautiful, and I got it as a hand-me-down from my mom.  It has thick straps and is somewhat asymmetrical in the front.  It's a shirt I love to pair with this long grey maxi skirt I have, but I'm pretty sure in this instance I paired it with sweatpants, because you know….quarantine.  Accessory wise it felt important to use gold jewelry because the original cover has gold and the story just has that kind of feel.  So I paired the look with my Slytherin locket, but put it on backwards.  Then I used the antler bracelet again because it gave me similar vibes to the print on the cover of the book.
Day 3: Rebel Belle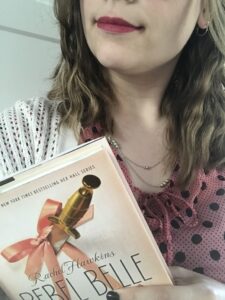 Rebel Belle was a book that I was completely surprised by.  I picked it up on a whim and ended up loving it.  I also am obsessed with how pretty this cover is.  I love the soft pinks and the knife holding up the strand of pearls.
I went for a softer touch with the makeup this day.  Delicate shades of pink went onto my lids, and I used a bit of shimmery cream shadow in the corner of my eyes.  This is a look that I would feel a lot more comfortable wearing in public, although I don't wear makeup very often.  I paired it with this pink lipstick.  It's a nice shade, and one that I feel is quite well suited to daily wear.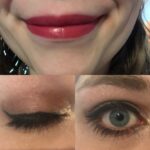 Obviously, I had to pick a pink shirt to go with Rebel Belle and while I didn't have a shirt in quite the same shade, I chose this cute pink blouse that has black polka dots on it.  I paired the blouse with a white cardigan over the top because a cardigan seemed like something that Harper, the main character would wear.  I kept my jewelry simple and chose this multi-tiered necklace with beading.
Day 4: Wicked Saints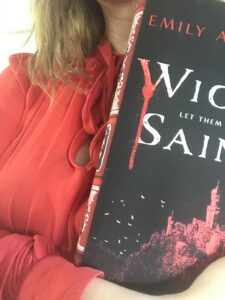 Wicked Saints was another of Kari's suggestions, and I was so jealous that she thought of it first.  I loved this book and the OwlCrate exclusive cover is absolutely gorgeous.  The instant she suggested the book, I had an outfit that formed in my head.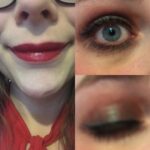 For example, I had the perfect eye shadow in mind.  In one of my Ipsy bags, I got an eye shadow pan of this shadow that looks black at first glance but is actually somewhat iridescent and applies a bit reddish.  It was the main aspect of this look because I felt that it matched well.  I also paired it with another red lip, but slightly less dark this time.  This was a Younique brand lipstick that my friend gave to me and I really enjoy the formula of the lipstick.
For Wicked Saints I ended up skipping any jewelry and made this gorgeous red top the main focus.  I love this top because it's such a light material but also such a beautiful bright colour.  I like the way it ties at the neck and how flowy the sleeves are.  It matched well with the red of the cover.
Day 5: The Bone Houses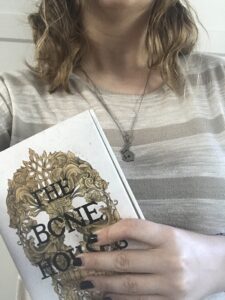 By the fifth day, I found myself struggling a little bit to think about what book I wanted to do.  I wanted to try and do different colours of makeup because I didn't want to do the same shades of eye shadow day after day.  Then when I was looking for the lipstick for Wicked Saints, I found my other Younique lipstick and decided that The Bone Houses would be a really interesting look to try.  This was such a fun and spooky story, and it was a fun look to construct.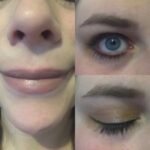 Since The Bone Houses has such a subtle colouring, I knew I had to do a more subtle makeup look.  I kept my eye shadow in the world of brown and beige, which again is another look I would be more likely to wear in public.  However, I used liner to make sure my eyes popped.  The main inspiration for this look was remembering that I had this pale nude coloured lipstick.  It seemed rather appropriate for a book about dead bodies.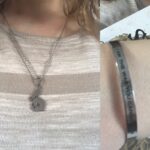 For jewelry, I let the crow/skull necklace make a repeat visit because the skull seemed really appropriate to pair with this look.  I also used the bangle bracelet with a Nevernight quote on it because the bangle felt appropriate.  Clothing wise, I ended up picking this beige and cream striped sweater.  It's another shirt that I got as a hand-me-down from my mother, but it's not one that I wear very often so I had kind of forgotten I had it until I picked it up for this particular look.  However, it really felt that it was a really good match for the colours featured on the cover of the edition of this book that I have.
Day 6: Undead Girl Gang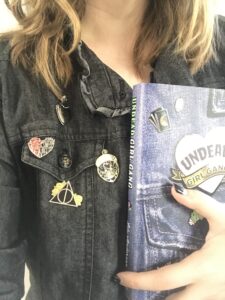 It was especially hard to choose my last book outfit.  I found that by the end, my motivation had begun to wain, which probably explains why I tapped out at Day 6 as opposed to doing a full seven day week.  However, this was one of my favourite looks because it was so fun to replicate.  It made sense that it would be fun though, because I had so much fun when I read Undead Girl Gang.  I highly recommend this book if you haven't read it already.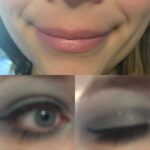 I love the colour scheme from this colour, and that's where I drew inspiration for my makeup.  The cover features a jean jacket in a light blue denim wash, so I went with light blue eye shadow.  (I apologize for the blurry photos).  Then I used the pink of the background of the pin with the title and the author's name to take inspiration for my lips and went for a light pink shade that was fun to wear in this context.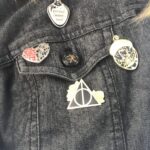 Then, I obviously had to wear my jean jacket to go with this book cover.  It's not the same colour as the one on the cover of Undead Girl Gang but I felt that it was still an appropriate match.  Underneath I wore a simple grey tank top, because there didn't seem to be a need to make it too fancy if you couldn't see it.  An important touch that I needed to add were some pins, because the jean jacket on the cover features pins.  My jean jacket always houses my Deathly Hallows pin, but I added a couple to help make it a little bit more busy.  I choose bookish pins so that I would have an overall matching bookish theme.
Those were all my bookish outfits.  I had so much fun putting these looks together.  Should I do this again? If so, what books should I do next?