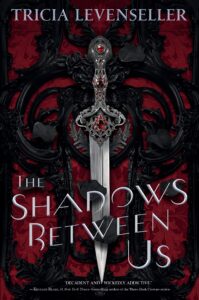 The fact that anyone can pass up a story that is described as a "Slytherin romance" is beyond me. Maybe it's a guilty pleasure, but all I know is that it's fun and enjoyable, and that's all that matters.
I really enjoyed Daughter of the Pirate King. While Levenseller's other books are on my ongoing TBR list, this book reminded me of how fun her writing is while simultaneously reminding me that I need to read her other two books as soon as possible!
Goodreads summary:
Alessandra is tired of being overlooked, but she has a plan to gain power:

1) Woo the Shadow King.
2) Marry him.
3) Kill him and take his kingdom for herself.

No one knows the extent of the freshly crowned Shadow King's power. Some say he can command the shadows that swirl around him to do his bidding. Others say they speak to him, whispering the thoughts of his enemies. Regardless, Alessandra knows what she deserves, and she's going to do everything within her power to get it.

But Alessandra's not the only one trying to kill the king. As attempts on his life are made, she finds herself trying to keep him alive long enough for him to make her his queen—all while struggling not to lose her heart. After all, who better for a Shadow King than a cunning, villainous queen?
I am all here for morally grey characters! I love that Alessandra is a forward thinking woman. Obviously women are just human too and have desires and needs and the fact that she doesn't hide it, yet doesn't flaunt it is amazing. The way she strives to be a trendsetter, but does it with such style makes me want to be her when I grow up.
Kallias does not trust anyone with a good reason. The fact that down to the very last second he doesn't even trust Alessandra, whom he gets to know better and better says a lot about his issues. Though, if my parents were brutally murdered and the killer was not caught, I'd be pretty paranoid as well.
I do like in this book that the characters don't really change. There's not much character growth in that they bend or change to fit for each other. It's more like they understand each other, rather than compromise. It fits very well for the Slytherin type. I would've been totally surprised if either of them decided to "change for the better" because that just isn't who they are.
I'm also a sucker for any sort of familial drama, so the fact that Alessandra has an insufferable perfect older sister is perfect. The way she's always thrown into her heroine's face shows us why Alessandra is the way she is and I don't blame her at all.
The ending of the story was something I didn't exactly see coming, but I'm not always one to predict things either. It was vague enough to where it was a surprise, but nothing lame.
I gave this one 5 stars as well because once I started reading it, I could not put it down.